4 Reasons to Choose Steel for Your Industrial Stairs
When it comes time to install an industrial ladder on your construction project, you have several options at your disposal. While many projects apply wood products to their stairs, there are several good arguments for choosing. Four main reasons for your structural steel industrial stairs;
Malleability: When it comes to flexible design options, structural steel is by far your best bet. Whether you want a simple design or a dramatic spiral in the middle of your building, structural steel can be created no matter what your design vision is for your project. Whether it's a single-flight system or multi-layer industrial staircases, your building will have the architectural integrity to combine form and function in your design. The only restriction is your design creativity.
Safety: Stairs carry some inherent hazards and structural steel provides solid and reliable support for those moving around your location. While timber products may appeal to you for other reasons, they cannot compare to the safety advantages of steel.
Durability: You will never have to worry about corrosion and pests when you choose structural steel for your ladder. Steel is equipped to withstand extreme weather conditions and you can count on its durability year after year. Chemical treatments and coatings also increase the durability of the steel by protecting it from corrosion.
Affordability: There are economic benefits to choosing steel for your industrial stairs. Not only are the materials affordable, but the components are fabricated and shipped ready to install, so you save on labor.
Maintenance: While a wood staircase will require frequent maintenance to maintain a beautiful shine, your steel staircase will require very little maintenance to keep it attractive year after year. Indoors or outdoors, your industrial stairs will be attractive and maintenance free.
Long-Term Availability: The benefits of choosing steel for your stairs continue to pay off over time. With the variety of attractive designs possible and their high load strength, steel ladders are the best choice for long-term use. Guests who come to your building will enjoy the visual appeal of steel and the steel will look attractive over the years.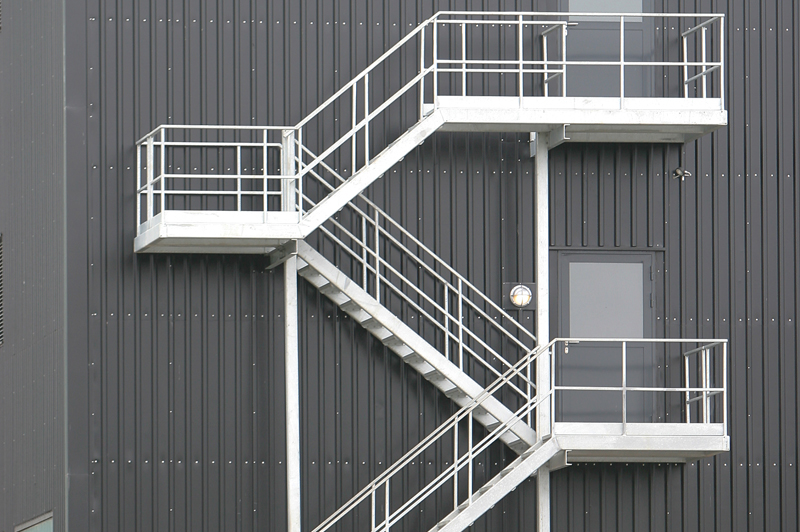 Industrial Ladders Made of Structural Steel Are Durable and Safe.
Choosing the right materials for your industrial stairs can be difficult, but Saral Steel offers an economical and attractive structural steel option. With our experience in many building projects and a variety of designs, we can help you choose industrial stairs that both meet your needs and offer visual appeal to your project. Contact us to discuss the look you want for your building project and stairs.